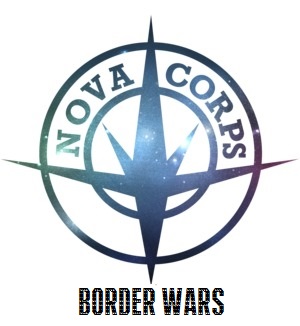 Publisher: Age of Marvels
Line: SciFi
Status: Ongoing

NOVA CORPS
 Written by Carlos Pacheco
 Art by Mike McKone
 Plotter: Marvell2100
 Cast:
 Richard Rider -Nova Prime
 Marionette
 Samara
 Robert Rider
 Sam Alexander
 Pyo
 Suki Yumiko
 Supporting: Queen Adora, Worldmind, Maxam, Moondragon
 Villains: Nova Omega -Garthan Saal, Annihilus, The Spartax, Blastaar, Ravenous, Darkhawk(Fraternal Order of Raptors)
 Reserve: Universal Church of Truth,

 Concept: The Nova Corps is an intergalactic police force lead by the Earth man Richard Rider. With thousands of Nova Centaurians and cadets under his command, Riders job is no easy task. The Corps duty is to protect the galaxies against threats from without and within the universe!


NOVA CORPS: THE BORDER WARS #1
 Written By CARLOS PACHECO
 Plot By MARVELL2100
 Art By MIKE MCKONE
 "The Peace-Keepers"
 With the destruction of the Shi'ar Empire, the balance of power in the universe has shifted! The Spartax have taken over all of Shi'ar space and it's up to Nova Prime Richard Rider and the Nova Corps to maintain a fragile peace between increasingly hostile races! But there is another threat lying below the surface as the Fraternal Order of Raptors led by Darkhawk secretly begin to amass power. However, there is something of even greater significance that is drawing very little attention as the universe adjusts to the new status quo! Whatever happened to the weapon that killed Abraxas? Where is the Null Force? Next Issue:
 32 PGS./Rated T+...$2.99