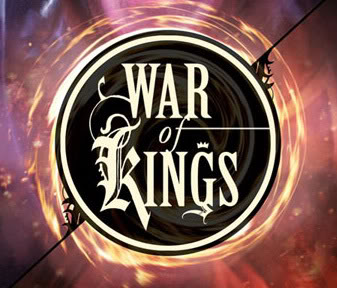 Publisher: Age of Marvels
Line: SciFi
Status: Ongoing

WAR OF KINGS
 Written by Joshua Dysart
 Art by David Marquez
 Plotter: Marvell2100
 Cast:
 Kree -Ronan the Accuser, Crystal
 Skrulls -Queen Veranke, Paibok the Super Skrull
 Shi'ar -Vulcan, Deathbird
 Spartax -Gray'Ven, Kahra
 Xandar -Queen Adora, Rhomann Dey
 Terrans -Gail Runciter(former SHIELD), Jack Of Hearts
 Centauri IV -Yondu the Mystic, Tarra
 Galador -Landra(Former Starshine) Daystar
 Villains: There will be a reveal to the major villain of this series.
 Concept: Game of Thrones meets Star Wars! The only loyalty in space is the friends that aren't trying to kill you!


WAR OF KINGS #1
 Written By JOSHUA DYSART
 Plot By MARVELL2100
 Art By DAVID MARQUEZ
 "United We Fail"
 The Heart of Darkness is over and nothing is the same! The Shi'ar Empire is no more and Emperor Vulcan is missing, presumed dead! Zenn-La has been destroyed! The Spartax have now taken control of all Shi'ar space and have sealed off their borders. The Kree, Skrulls, Xandarians and other races throughout the galaxies have all suffered in the war between Death and Abraxas and an uneasy truce lies between all. Each race knows they are too weak to threaten each other and a fragile peace must be maintained. Newcomers to the intergalactic stage begin to emerge such as Alpha Centauri and the distant planet Earth! Although the war is over, each faction jockeys for position in the race to become the next galactic power in the universe! This is the War of Kings! Next Issue: Sue For Peace, Prepare For War!
 32 PG./ Rated T+...$2.99